Soupçon de rose
Fighting breast cancer
one soup at a time
Next tour: October 2019
About "Soupçon de rose"
A fundraising tour across 10 cities in Quebec
Sales are organized in Sandalwood Management's shopping centers and offices during the month of October.
Delicious comfort soups in a jar
Sandalwood Management partners with ''Pots de Folie''; a local company that promotes healthy eating, a key cancer prevention factor. Each jar serves 10 people.
A campaign inspired dozens of employee volunteers
The pop-up sale events are handled entirely by Sandalwood Management staff and members of their families, outside of work hours.
Never underestimate the impact research and the support of loved ones have on the disease. Together, we are stronger than cancer!
-Marie-Josée Marcoux, Le Reflet du Lac, 2017
Trouvez un point de vente près de chez vous
Rally to the cause. No matter how big or small, every contribution makes a difference.
The story behind our fundraising campaign
After learning an employee developed breast cancer in 2016, Sandalwood Management organized a fundraising tour selling soups in a jar in its shopping centers across Quebec. The campaign inspired dozens of employee volunteers to rally to the cause, spread hope and support to those affected by this disease and their relatives.
Everyone can purchase charming pink jars of soup that serve 10 people – a tasty treat for the whole family – for only 10$. All profits go to Quebec Breast Cancer Foundation
One out of eight women will develop breast cancer in the course of her lifetime;r 8. 6,500 people will be diagnosed with breast cancer this year; 1% of all cases will occur in men.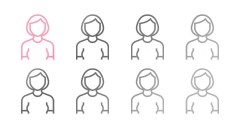 Thank You to Our Partners