Our Story
Commercial real estate growth and success spanning 30+ years
When Sandalwood Management started in 1985, it focused primarily on managing multi-family residential units. After Joel Ospovat acquired the U.S. firm in 1988, he quickly expanded the portfolio with commercial properties. This diversified approach would go on to form the blueprint of Sandalwood Management's success, and earn the firm widespread recognition in Canada and the U.S.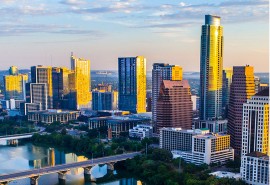 Founded in 1985 in Austin, Texas

80 commercial properties across North America

6 million sf of retail and office space

7,000 multi-family residential units

Dually headquartered in Austin, Texas and Montreal, Quebec
Sandalwood Management entered the Canadian market in 2000, by acquiring 13 shopping malls. We now own and manage 26 shopping malls and 15 office properties in various regions of Quebec, Montreal and New Brunswick.
A Team Built For A Prosperous Portfolio
Buoyed by three decades of growth, Sandalwood Management now ranks among the leaders in Canada's commercial real estate market. In order to ensure that our properties are impeccably managed, we rely on a young, driven team whose range of expertise is quite simply colossal. This enables Sandalwood Management to fulfill the needs of an increasingly demanding clientele, and meet the challenges of a constantly evolving market.
Our team's expertise and drive constitute our biggest assets.
– Joel Ospovat, President